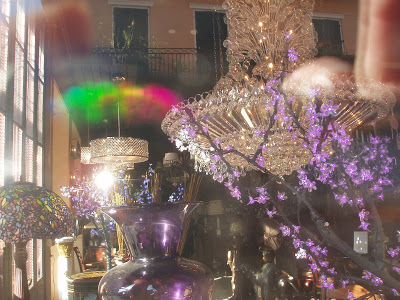 Just returned from doing research for the 4th book in the Alvarez Family Murder Mystery Series, which takes place in New Orleans. What a fabulous city! So colorful, so historic, so very special. To think, we might have lost this city forever thanks to Katrina and bad government decisions. Aside from the French Quarter and the Garden District, it will never be quite the same, though. It will be BETTER. What little I've learned about the people of New Orleans during my scant visit, they have a way of making their mystical spot on earth, jazzy, unique, and sparkling.
I simply had to take a lot of pictures of this treasured place and kept running into cats wherever I went, mainly lounging around in shop window! Here are some of the four-footed felines, who look like living in this amazing piece of the planet is only their due.
What I like about New Orleanians best is their sense of whimsy. They will have a two-hundred year old historic building, beautifully preserved and loving cared for, with plastic, multi-colored mardi gras beads draped along the length of balcony railing of the second floor. It is just too fun.
Saw a three legged dog, too. A large, white mix. He only had one back leg but managed to get along on the cobbled streets of this terrific city. A lady stopped the man and asked him how fast he (the dog) could walk. The man replied, "As fast as he wants to." You could tell the man loved this animal and it warmed my heart. I love it when people treat animals right, no matter where they are. Great cities are like that; it's in the air. Hurrah for the Big Easy!
I didn't get a picture, but it is in my heart, safe and sound.
I can't wait to go back!