I am thrilled! Murder is a Family Business has just received the coveted CataNetwork Reviewers' Choice Award for 2011.
"CataNetwork reviewers consider your book one of the best that they have read and reviewed this year. Thank you for sharing your talent with all the readers as you entertain us with your stories." Their webswite is: http://singletitles.com/?page_id=6830.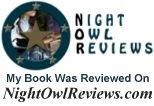 And days later I got a great review from NightOwl, where the reviewer praised this first book of the Alvarez Family Murder Mystery Series, saying the "only downside was now I want to go get a cat." How fab is that?
Both were totally unexpected and I am grateful. Frankly, I had not been paying too much attention to Murder is a Family Business, as A Wedding to Die For has been garnering all the nominations and awards lately.
I won the 'silver' over at Preditors and Editors for Best Mystery, 2011, and I am one of the finalists for EPIC Best eBook Mystery of the year, 2012.
None of this would have been possible without my fellow authors and the network of people who have been supportive and wonderful. Thank you, one and all!!
Hey, I'm stoked! I'm happy! I feel like a soccer mom with great kids, only my kids are books!
---
Save
Save