I don't have writer's block. If need be, I can sit down and write something. Aren't I doing it now? Well, I didn't say I could write something of value, just something. However, I have been working on the final cleanup of a novel I've been penning for the past six years, getting it ready for publication. You know how that goes: a tag line, a blurb, another tag line, a better blurb, a tag line that might make someone want to pick up the book and read it, a blurb that makes sense. Daunting.
Then there's the cover, back cover, the spine – and I'm glad something's got one – because my spine has turned to jelly.
What happens is after maybe 45-minutes of doing this and that on this project, I'm shot for the day. I don't want to go back to the draft of the 3rd book of the Persephone Cole series and get Percy out of the kitchen. I'm okay with leaving her there, gaining weight, not getting anything done on her latest case, because I am unwilling to switch gears from my stand alone mystery noir back to the Persephone Cole series.
This is unlike me. I usually like to juggle 2 to 4 writing projects at the same time. Helps to keep me from getting writer's block. I am now wearing that block around my neck. See albatross below and to the right.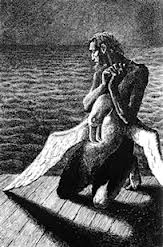 I'm feeling overwhelmed. Lethargic.
Doesn't that closet need to be cleaned out? You know, you've really been neglecting the cats. Grab that toy and go play with them. Go kiss your husband, go take your shoes to be re shod, go to blue blazes, but whatever you do, Heather Haven, don't get any writing done.
Big sigh.


Okay, I'm done grousing. After I come back from the post office, I really have to get back to my writing. I really, really do.